"Let go & let it grow."
This was a phrase I heard from the Lord while praying one night. It's been stuck in my head ever since. With this phrase, God provided me with a visual aid. I began to see the most beautiful, stunning & vibrant red rose I'd ever seen. As if in a time lapse, it began to unfold & blossom. Suddenly, my eyes fell down to a very large & prominent thorn upon the stem. After looking at the thorn for a minute, my eyes lifted back up to the blossom again. It had stopped it's progress of unfolding while I'd been observing the thorn, but when I kept looking at the blossom, keeping my focus upon it, it resumed unfolding into undeniably the most exceptional rose one has ever seen. The interpretation of this immediately followed.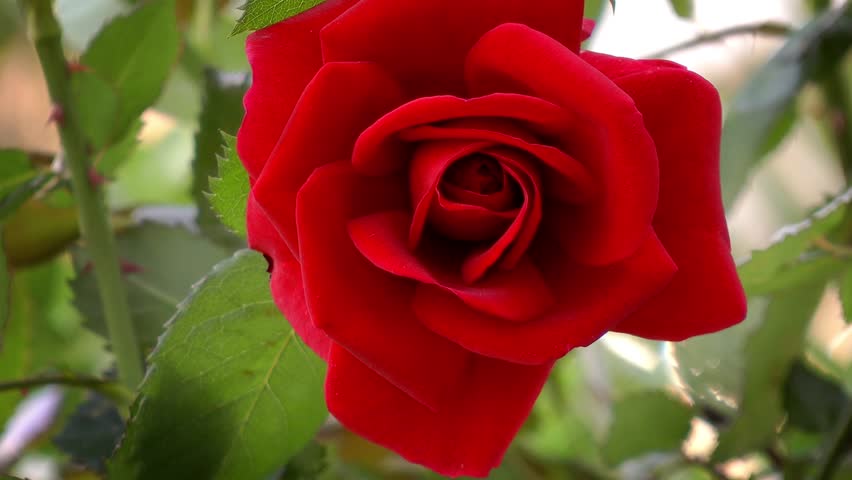 Many a time in this life, God is trying to give & bring us something new, bring us into a new season, bless us with whatever it might be in our personal situation. The rose blossom represents this beautiful blessing & the truth of how God wants us to thrive & blossom in life.
Sadly, though, instead of feeling joyous & hopeful, our eyes fall back to the pain of the thorn. (For some of us, it's more than just one thorn.) The thorn represents past hurts, failures, let downs, fear & a myriad of reasons we feel we cannot trust God that this is really something good. In focusing on the thorn, it grows larger & larger, we sink deeper into those negative feelings, end up bound & more miserable & ultimately feel overtaken. I really feel a major factor & reason for this is fear.
I'm not making light of "the thorn".  It hurts—oh boy, does it ever! I've had my fair share of thorns in life, we all have. I used to be one of those people who focused on the thorn & it was usually out of extreme fear. Fear that something was just too good to be true, fear of trusting, fear that I didn't really hear God right, fear of being hurt, fear of new friendships, fear of getting out of my comfort zone, fear of new & unknown beginnings/seasons, etc., etc., etc. It's insane how we can get comfortable in our dysfunction– all while hating it, too. I can tell you this: it's sheer MISERY.  One thing I learned from focusing on the thorn or the rose is that whatever you focus on, you empower & you give life for it to operate in your life. I once heard a saying that said, "What you focus on, you will become."  The first part of Proverbs 23:7 makes mention of this as well.
When we focus on the bad, we empower it, it grows & manifests in our lives. But when we focus on the good, we give the good life & the good manifests in our life! I realize this can be a hard stronghold to break out of & it's certainly not one that one can do on their own or in their own strength. Only God can break toxic mindsets & strongholds, heal pain & hurt, restore broken trust, give us His confidence & His courage to step forward into His plan for our life & peace that we are hearing His voice. How does this happen? It's easier than you think. Focus on the Creator of the rose. Focus on what really is the truth & quit listening & biting into the lies that satan whispers in your mind, those lies that want to keep you miserable. The lies that want to keep you away from the job of your dreams, the relationship your heart has always desired & longed for, the joy you've ached to have for so long, the peace you've craved for, or the confidence you wish you could have so badly are just a few areas where he tries to deceive us.
Give attention to our Savior & His promises to us. Give attention to His relentless love for us. Oh, how He loves us! That is such a key right there. Just the mere mention or thought of His love melts me to the core. It's all about His LOVE.
"There is no fear in love [dread does not exist]. But perfect (complete, full-grown) love drives out fear, because fear involves [the expectation of divine] punishment, so the one who is afraid [of God's judgment] is not perfected in love [has not grown into a sufficient understanding of God's love]." — 1 John 4:18 (Amplified Version)
Who or what is love anyway? As a society, love has been tremendously distorted for us. We often view love as what is depicted & watched in the movies, television shows, read in books or the lyrics sung in a love song. I'm not saying those are bad. I'm the first to admit, I'm a real sucker for a classic romantic movie or a sweet love song but this isn't ultimate love. This isn't the love that banishes our fears, comforts us & gives us everlasting, indescribable peace & confidence. That kind of love is, well, this:
Yeah. THIS is true love & nothing can or will ever separate us from that love. (Romans 8:38-39.) God IS love. He is the true definition. What Jesus did on the cross is love, the most powerful act of love that has ever been seen.
Because of Jesus' death & Resurrection, we can live a life victorious, fearless, confident, peaceful, loved, secure & a life not driven by a "thorn." Jesus wore the crown of thorns so you could be free from these things! You don't have to be controlled by that thorn any longer. You can trust in God's solid promise that He is FOR us, not against us.
Take a deep breath & LET GO…. Give God the pain, give him the hurt, the heartache, the chaos, the distrust, the doubt & the fears. Give it all to Him. Just believe & REST. It can be one of the toughest things to do, I understand that. It can feel as lovely as if you were jumping out of an airplane without a parachute but know this, God has you. God's got this. You don't have to have a parachute; He's carrying you! When we let go, God's grace can flow.
Start looking at the beauty of the rose, the beauty of God's goodness & blessings unfolding in your life. Receive those blessings. Don't run from them, run to them. It's amazing how we can pray for something for so long but when it comes, we suddenly focus on the thorn & fearfully run from it. Don't run. Embrace the beauty. Once again, rest in Him. Let not your heart be troubled. Don't allow your mind to become bogged down. Don't worry, don't analyze. You don't have to.
God's got this.
So, let go & let it grow…
Thank you for reading!
—Julia